Here are some pictures of the beautiful table runner that
Selina
sent me as part of the EB Newbie Sewers Table Runner Swap. Thanks Selina, I love it.
Here's a close up of some of the detail. The holly leaves are beautifully HAND appliqued and all the quilting has been done by HAND too. I wish I had the patience to do a hand quilting project, maybe one day...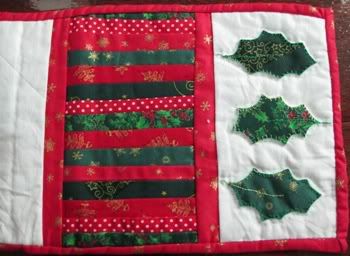 The spotty backing fabric is so pretty, and the package came wrapped with this cute little angel doll. And see Selina's labels, they look so professional, I want some!
p.s. if you're out browsing the net check out The
Selina Bellarina
shop