I made this in less than an hour, no pattern required, it goes something like this.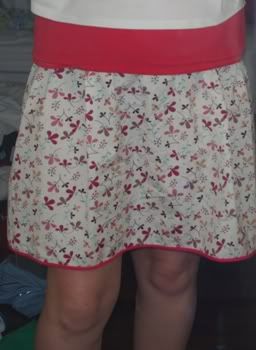 The easy peasy lemon squeasy skirt...
Requirements:
Roughly 1/2m of fabric
Shirring elastic
Matching thread
1 1/2m or 3m of bias binding (optional)
Take 1/2m of fabric, hem or bind the long edges (I was lazy and just overlocked the top edge, but I bound the bottom edge.)
Fold the fabric in half right sides together selvege to selvege and stitch the edges together so you have a tube of fabric ready hemmed.
Wind the shirring elastic nice and tight onto your bobbin and pop it into the machine. Decide which is the top of your skirt. Starting about 1.5-2cm from the top of your skirt, sew round and round the 'waistband' in lines about 1-1.5cm apart until you run out of shirring elastic or your 'waistband' is at least 5-7cm deep (mine was 6 lines of shirring). Don't worry if the lines are neat or not, you won't notice once it's all ruffled up by the elastic. Tie off the lose ends.
And that's it. A skirt... Anyone come across any easier ones?