I decided to make some blocks using
this
tutorial from Elizabeth at
Oh Fransson
.
So far I have made 6 blocks in the red (ironed on to the interfacing) and 2 in the green (completed), so planning one all read an done red and green table runner. I love the red ones especially. Might have to make more of them.
I made a couple of changes to the technique in the tutorial, I used spray baste to stick them down before ironing, rather than touching with the iron as suggested. Mainly because my cutting space and my ironing space are in different rooms... but I think it was helpful. I also ironed my seams to one side which is much quicker that ironing them open, I did try one block with the seams ironed open and it is a little flatter, but takes ages to do, and once it's all quilted I don't think it will make enough difference to be worth it.
Here are the next batch of fabrics ready to be cut,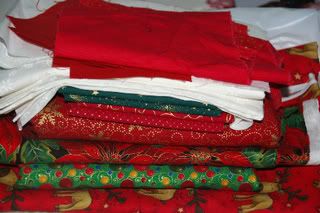 Anyway, at least I am doing (and blogging) something!