OK, I've hit my first quilting conundrum. The original pattern for the quilt was this one.
Give and Take
The colours are quite dark and the fabrics are very busy so I think that it needs to be broken up a bit and am thinking of 4 square blocks with sashing in between. Either in the purple to blend but break up the business a bit, or maybe the olivey green or the pink as a contrast?
And then I started playing with the blocks.
This is the original style
1.
but then there are these options...
2.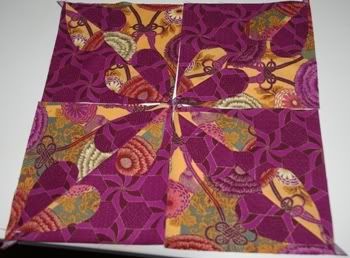 3.
4.
I think I like 1 and 2 best, or I could do three of each (the quilt is looking like being 12 blocks) and mix them up. Or would that be just too busy?
Ooh, what to do...
Well, off to Spotlight to browse for 'sashing' material. If anyone has any thoughts I would be very greatful for imput.