I dyed the bamboo terry and fleece that I boughht through the
EB
nappy co-op a couple of months ago, the results were mixed, I didn't think the 'scarlet' was very scarlet, but the yellow came out nice and strong.
Most of it is for nappy making, but I used a couple of bits to make some bibs for the dribbly one. I thought the red and yellows would also be particularly useful for those first foods - you know, carrots, sweet potato, pumpkin...
They are loosely based on the
nested
pattern, but I think that I was supposed to enlarge the pattern before printing because it looked tiny and I ran out of ink so I freehand drew a similar shape. Instead of binding the top of the pockets I folded a piece of fabric in half, and put a piece of interfacing in between to make it stiffer. I turned and topstitched the top halves of the bibs, but not the pockets so that the bibs can be reversible.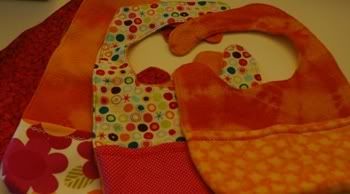 I also made up a batch of nappy free time mats. One cheapo shower curtain and a scraps bag of fleece and flanelette from Spotlight. Total 11 dollars for 3 mats. They're not totally waterproof but better than wetting the carpet everytime.