So, I'm going to a wedding, and this dress has to be finished before we fly, I'm reasonably happy with how it is coming together so far but have a couple of questions.

I really fancied wearing a dress and I couldn't find anything I liked in the shops that I would be able to breastfeed in, so I decided I would make something myself and have constructed this around a nursing bra so that the clips are in place already.

The top is pleated, so I have sewed the pleats down (wider in the middle, narrow at the back to allow for the curve of my boobs (which are not inconsiderable at the moment). There are darts under the bra cups which almost give it some shape - I think it will hang a bit better once it is all sewn in place as the top is just pinned at the moment.
I'm thinking that I need to put some darts in under the arms as well, but worried that if I make it too tight under there I won't be able to unclip the cups.

The skirt is just a tube of fabric and I elasticated the top and sewed it straight to the bra. I might be better unpicking some of it and putting darts in there as well though as I look a bit still pregnant in it, any thoughts?



and then there's the question of length. I liked the idea of a long dress, but I'm not sure I like how it hangs at the bottom. I have enough length to double the fabric up and sew what is currently the hem into the waist band (as in the short dress pic) making a kind of grown up version of the bubble dress... Or I could just chop in and hem it, might be neater.
This is the detail of the pleating on the top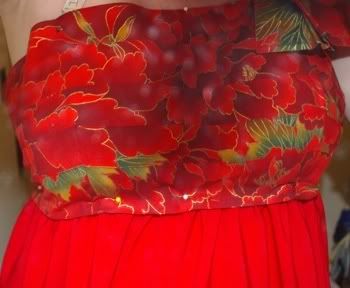 The top fabric is a Robert Kaufman Asian print and the red is a poly crepe from Spotlight (which incidentally I have to go back and pay for because they didn't charge me for it. It's probably cost me about $35 for the dress (when I pay for the fabric) plus the bra of course.
I'd love to hear your thoughts?