I can't believe it's September already. Wow this year has gone so fast.
My baby is already coming up for 4 months old!
and it looks like she's going to be keen on reading and crafy things like her mum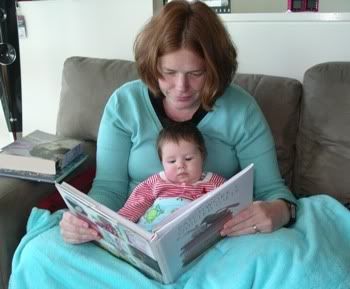 I'm making small progress on my projects. Here's a pic of my new baby in action...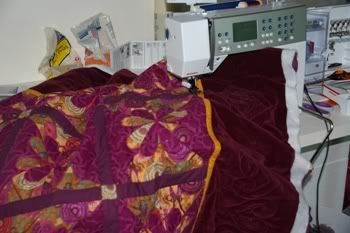 I've not got the hang of the free motion quilting yet, and am still skipping stitches, but I think it's more to do with how smoothly I'm moving the fabric rather than anything else. Looking forward to going back into the shop for a lesson in the next couple of weeks if I have time.
And just to show off my Sandi Henderson Farmers Market fabric, I couldn't resist piecing the charm sqares that I recieved last week (and it all went together so fast with the new machine).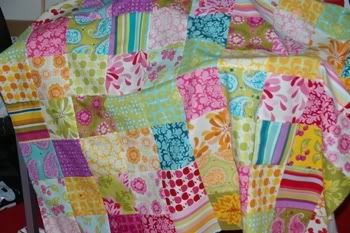 I'd have to say it really is as beautiful as it seems in all the pictures! This one is for me... I think I'm going to add a wide white border and plain white backing and then use it as a practice piece for machine quilting. It will have to wait until after our trip to the UK though as I have lots of other bits and pieces to get done in the mean time. At least the passports have arrived so we can actually go now!