These really are great little bags to make from the
Last Minute Patchwork and Quilted Gifts
book, they don't take more than an hour to make (well, not counting settling the baby, waiting for her to go to sleep, cooking dinner etc. etc.).
I ended up making three, I loved the contrast of the dark denim against the prints, so I cut as many as I could out of my piece (which was $5 in the bargin bin with a second piece of fabric at Spotlight) and made them up with different prints.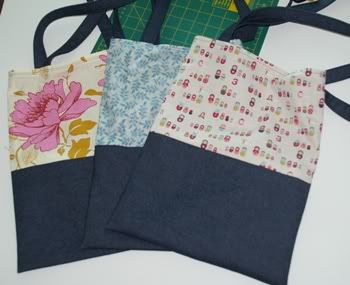 I was very happy with the result, two will be gifts, and the third one (not decided which one I want to keep yet) might even be for me!!!