Inspired by the gorgeous
Misses Buttons
that
Novy
has been making recently, I had to go straight out (well onto the net) and buy a copy of the pattern.
This is Miss Scarlet Buttons she is now wrapped warmly in the butterfly doll quilt I made earlier in the year (a doll has to have a quilt!) and inside the santa sack that I made last week, ready for the big day.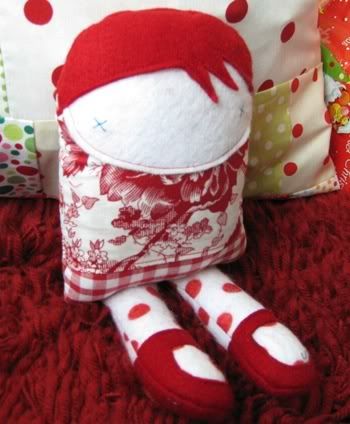 Miss Scarlet buttons loves singing and playing and would really like to learn to play the guitar, her favourite colour it, you guessed it, RED! She is looking forward to having a real little girl to play with. Despite her name, this particular Miss Buttons is buttonless. Maybe once B is older we can add a button.
She is leaning against the now rather full Santa sack that I made. We haven't even wrapped the present from us yet!